Three Horror Tales from Terror Films in August: Interior, I Know You're in There and The Documentary
28DLA: THE VOICE OF HORROR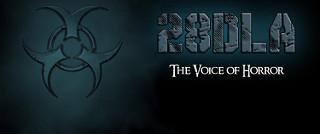 Three Horror Tales from Terror Films in August: Interior, I Know You're in There and The Documentary
Monday, August 14, 2017 by Michael Allen
Terror Films will release three films throughout the month of August. The films are: Interior, I Know You're in There and The Documentary. Interior is a haunted house thriller, which will release this August 15th, through Video-on-demand. The film, from director Zachary Beckler, is a multi-award winner. Early stills from all three films are hosted here.

The first still for Interior (above) shows a man and a shadow. He is there to document strange phenomena, inside a mysterious home. Armed only with a camera, he must confront the terrors within.

As well, stills for I Know You're in There show a wheelchair bound young woman. In this film, a man discovers the existence of a long lost sister. He discovers her after the suicide of his mother. Together, they discover a supernatural evil. This film, which releases on August 18th, is from director Robert Lawson Gordon.

Finally, The Documentary will release this August 22nd. This title deals with an unrelenting stalker. Developed by Walter Moise, this film also involves...