A Supernatural Miracle Occurs in Robert Lawson Gordon's I Know You're in There: Release Details
28DLA: THE VOICE OF HORROR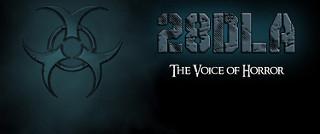 A Supernatural Miracle Occurs in Robert Lawson Gordon's I Know You're in There: Release Details
Friday, August 18, 2017 byMichael Allen
I Know You're in There is out today. Released by Terror Films, this title involves a family tragedy and one man's reunion with a long lost sister. This title stars: Will Hurst, Mindee de Lacey and Karin Lee. Directed by Robert Lawson Gordon, the film's official artwork and trailer are available here.

The trailer shows more story details. Tom (Hurst) finds his sister, Chloe (McDermott). She is catatonic, or is she? Chloe begins to show signs of consciousness. But, she may be possessed by a supernatural evil.

I Know You're in There will be showing...