A Monster is Created in Shaun Hart's Del Playa this July 21st
28DLA: THE VOICE OF HORROR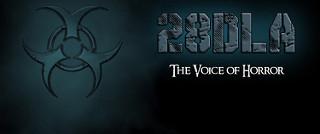 Tuesday, July 18, 2017 by Michael Allen
Tagline: "Some Monsters Aren't Born. They're Created."
Del Playa is the latest, upcoming release from Terror Films. This title courted controversy, when it was associated with the Elliot Rdoger crime spree. Since 2015, the film has acquired a July release date. Del Playa will show in the United States and Canada, in just a few days. The film was directed by Shaun Hart. And, Del Playa stars: Devon Barnes , Ryan Ochoa, Brett Johnson and Alan Ayala. The film's official artwork and trailer are hosted here.

The promotional material focuses on Matthew. He has his heart set on Claire. But, she already favours someone else. Rejection and a difficult home life push Matthew over the edge of sanity. Broken and alone, he turns his pain into something murderous. Now, everyone will pay for his perceived wrongs.