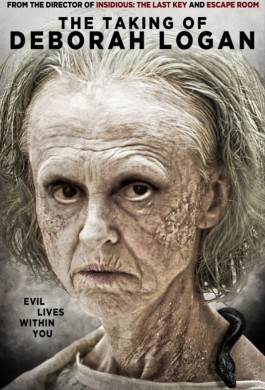 THE TAKING OF DEBORAH LOGAN
AVAILABLE ON
LIVE NOW!







After months of searching, Mia Medina (Michelle Ang) has found the perfect subject for her PHD thesis film on Alzheimer's Disease. For the next several months, cameras will record the everyday life of mother Deborah Logan (Jill Larson and her daughter Sarah (Anne Ramsey). Mia and her crew will document the effects the disease has both physically on Deborah and the emotional and mental toll it takes on her primary caregiver, SarahWhile mother and daughter are reluctant to expose themselves to outsiders, the grant money Mia has promised them will help with necessary medical expenses and allow them to keep their home.
As they begin the filming, the cameras record Deborah and Sarah's day-to-day activities, with Mia noting the telltale signs of the progressive disease. But as the days progress, they observe behaviors and occurrences that show the progression to be far more advanced than anyone was prepared for.
And there are also strange things beginning to happen around Deborah that are not consistent with any findings about Alzheimer's. Things that are dark and ominous, and they're affecting not only Deborah, but those who surround her. Over time, things worsen, and answers are scarce. What becomes apparent to Sarah and Mia and her crew is that there's something besides Alzheimer's that has taken control of Deborah's life. It's an evil that is far worse than the debilitating disease with which she was first diagnosed.
Whatever it is that's within her is clearly trying to get out, and if it does, it threatens to consume anyone and everyone who try to stop it ...